Apartment A ****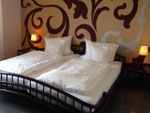 Apartment A has a large covered balcony, with beautiful views of Lake Constance and the Swiss Alps. The living and dining area with its large panorama window will get you into holiday mood. The kitchen is equipped with all comforts. 
Features
two bedrooms
living room with dining area 
fully equipped kitchen
master bathroom and guest bathroom 
balcony
communal garden
TV, DVD player, compact CD Player
induction cooker with oven, coffee machine, dishwasher, large fridge, microwave, toaster
washing machine, hair dryer
The star classification was carried out by DTV.